Why Are Jeeps So Off-Road Capable?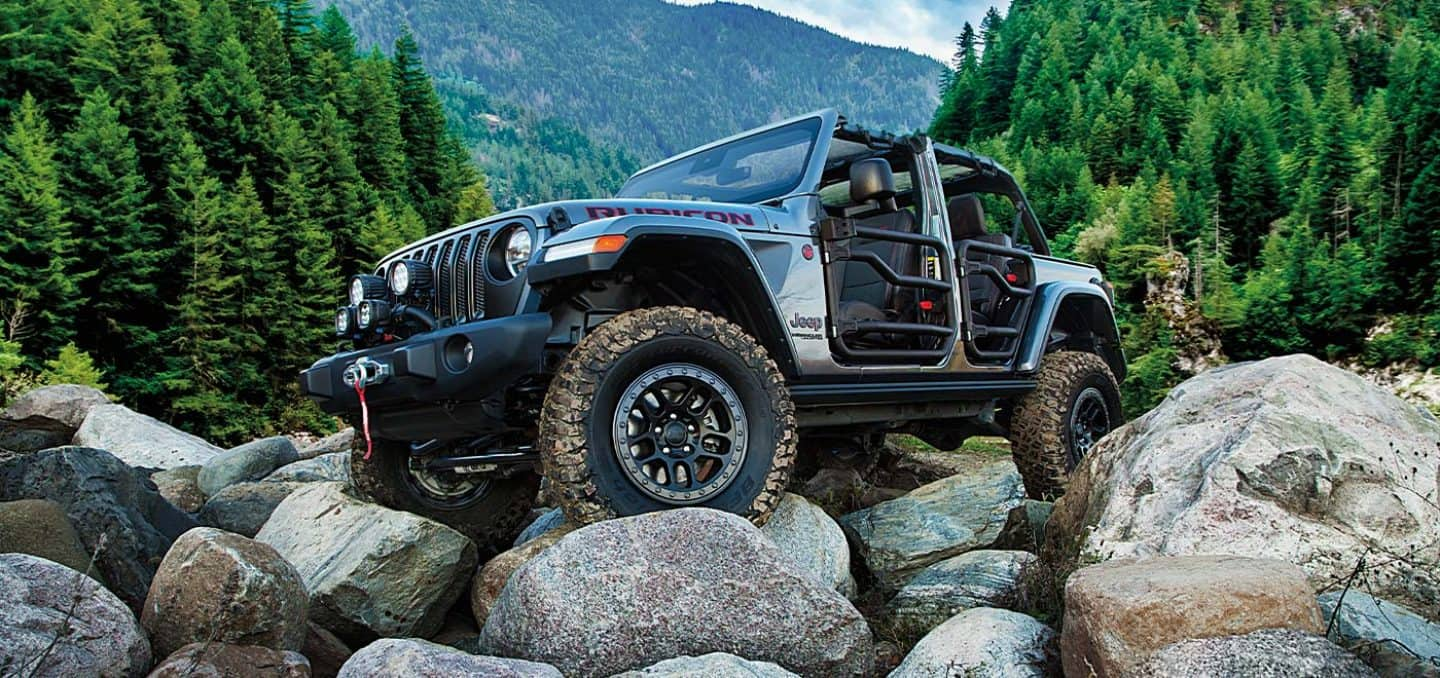 Why Are Jeep's So Off-Road Capable?
Jeep is widely recognized as one of the most off-road capable car manufacturers in the world. And this title didn't come easily. It is the result of 80 years of designing and redesigning vehicles to suit the needs of even hardened off-roaders and never settling for good enough. Modern 4×4 Jeep vehicles focus on three primary systems; 4×4 drivetrains, traction management, and suspension to provide superior off-road capability. Jeep is very good at coordinating these three systems to give drivers unparalleled control no matter where they take their Jeep. Continue reading below to take an insider look at what it is that makes Jeep 4×4 vehicles so capable!
Jeep 4×4 drivetrains
Jeep employs many different 4×4 drivetrains across the Jeep lineup, ten to be exact. Each one has its own name: Active Drive, Active Drive I, Active Drive II, Active Drive Lock, Active Drive Low, Command-Trac, Rock-Trac, Quadra-Trac I, Quadra-Trac II, and Quadra-Drive II. All Jeep 4×4 systems are variants of either full-time, part-time, and on-demand four-wheel drive, each operating a little differently to provide optimal control for the specific vehicle. Read below to see these different systems broken down.
Full-time 4WD systems, like the two Quadra-Trac systems and Quadra-Drive II, are employed by the Grand Cherokee. Four-wheel drive is the default setting for these systems. With Quadra-Trac I, torque is distributed through a center differential at a split of 48% to the front axle and 52% to the rear axle for optimal control in all driving conditions. Quadra-Trac II defaults to four-wheel drive until more traction is needed, in which case up to 100% of available engine torque will be sent to the axle with the most traction. Quadra-Drive II operates similarly and adds an electronic limited-slip rear differential for better traction control.
Part-Time 4WD are systems like Command-Trac and Rock Trac, used by the Wrangler and Gladiator. These default to two-wheel drive but allow drivers to shift into 4WD on the fly, even at speeds up to 55 MPH. This will split the engine torque between the front and rear axles to provide optimal control when the weather gets dicey, or drivers enter a trail.
On-demand 4WD, like the Active Drive systems, default to 2WD like part-time systems do. However, when a loss of traction is detected, the on-demand systems will automatically shift into 4WD to maximize traction. This gives drivers fuel economy when driving on a dry highway and the four-wheel-drive traction in the snow or on the trails without needing to push a button, pull a lever or flip a switch.
Jeep traction management system
Selec-Terrain is the name given to Jeep's traction management system. This gives drivers control over the 4×4 by customizing it to provide optimal ride quality on a specific road surface. Selec-Terrain is on a rotary dial located conveniently on the center console. The dial has Auto, Snow, Sport, Rock, and Sand/Mud modes. Selec-Terrain defaults to Auto mode, putting the 4×4 system in control to sense changes in road conditions and adapt accordingly. When the driver shifts into Snow mode, the system redistributes torque to the axle with the most traction and optimizes the differentials to prevent the car from losing traction and reduce tire slip. Sport mode will change the transmission shift points and optimize throttle control to maximize on-road performance. Selecting Rock mode will shift the two-speed transfer cases into 4-Low and alter the throttle control for easy handling in rock-crawling situations. Lastly, Sand/Mud mode monitors wheelspin and refines the traction control system to redistribute torque and limit slip when required.
Off-road-tuned suspension
Jeep's vehicles that are geared towards off-roading employ a suspension system designed for just that. Suspension, like four-wheel drive, is a crucial part of off-roading success. Off-road trails often require vehicles with high ground clearance and greater articulation. Articulation is the verticle travel of the wheels, meaning how far up and down the wheels travel to stay on the ground. For example, the Wrangler and Gladiator Rubicon models feature FOX shock absorbers. These are employed to provide greater articulation to keep all four wheels on the ground while climbing over rocks or logs. Off-road suspension systems are also often raised to provide greater ground clearance. An example of this is that the Jeep Grand Cherokee has a normal ride height of 8.6 inches, while the Jeep Grand Cherokee Trailhawk features Quadra-Lift air suspension for a maximum ride height of 10.8 inches.
Get an off-road ready Jeep in Kingwood, West Virginia!
There aren't many car manufacturers on the planet that can follow a Jeep wherever it goes, and Jeep shows no sign of stopping this level of capability! So, are you interested in experiencing the superior off-road prowess of a Jeep 4×4? Then come on down to Victory Chrysler Dodge Jeep Ram of Kingwood, where a professional sales expert will help you find the perfect Jeep vehicle to suit all of your needs! You can also check out our full Jeep inventory right here on our website to start your search today!